I got no strings to hold me down...
Growing up in Quebec city in the 70's, I watched many shows in their French versions and never even considered that there had been English versions. Any adult who grew up in this province will probably tell you they saw at least one episode of
Goldorak
,
Albator
, or
Les Sentinelles de l'Air
.
Little did we know that the rest of Canada knew these shows as Grandizer, Captain Harlock, or the Thunderbirds. The reason I'm thinking of this now is that I've been made aware (
thanks be to Toast
) that yet another
TV show has been made into a movie
.
I'm not sure how the Thunderbirds will work as a movie, especially since they're not using the string puppets. Granted, I remember always feeling a little creeped out about those string puppets for some reason, but at least the look and feel of the ships they fly around in has been preserved.
Oh... who am I kidding? Of course I'll go see it. Maybe I'll rent an episode of the original Thunderbirds before I go see the movie, but then again, it woud be the first time I see the Thunderbirds in English (instead of Les Sentinelles de l'Air).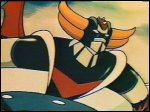 A few years ago, I went to the Cinematheque to watch a
two-hour Goldorak movie
in French, which was really four episodes of Goldorak put back-to-back and in sequence. There was about 60 of us in the theatre and we were all about the same age. The nostalgia factor was great, but everyone in the theatre seemed to be thinking the same thing "This is so CHEESEY! I can't believe I used to get so excited about this cartoon!" That was a translated quote from the guy sitting next to me when we both looked at each other and rolled our eyes.
Ah... the filtering and adaptive powers of memory.